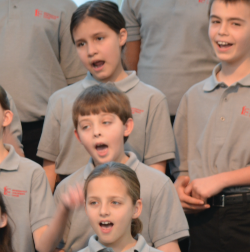 We are always looking for singers that want to have fun!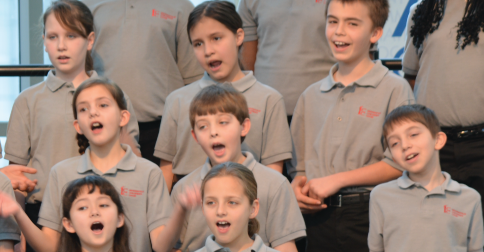 Every week, all kinds of young people from all over Central Indiana join together as members of the Indianapolis Children's Choir to pursue their shared love of singing and music. There are many reasons why singers join the ICC, find out some of the reasons here.
The ICC has programs and choirs for children age 18 months to 18 years.
Click below to find out more about the ICC's many choirs and programs or click here to fill out an interest form and we will contact you!
"Thank YOU for helping us pull together such a powerful piece to kick off the Eskenazi Celebration event. We reached out late (and in the summer), and you still whipped it together as though you'd been planning to be there all along! I know it was a busy weekend for ICC and we so appreciate you figuring out how to wiggle us in – you were the icing on the cake of the celebration. It was a pleasure to work with you and we are grateful for your partnership. We look forward to doing it again soon."  -- Jen Bachman, CEO, Meribeth Smith & Associates
"The ICC was a pleasure to work with at the event! Thank you for being on top of it and so organized. The song was just the perfect fit for our organization. Dr. Crabb stopped me later in the evening to say what a lovely addition ICC was this event! Wishing you well in your future endeavors!" -- Kelly Gardner, Director of Operations, Eskenazi Health
"As always! We heard nothing but compliments from EVERYONE! You have a very talented group!" —Emma McGowan, Maribeth Smith & Associates, Inc.
"Great performance for ICC at our NALM Conference.  The conference attendees were ecstatic over the professionalism of the choir." — Mark Erdosy, National Anthem of Lay Ministry 
"Your singing and performance was amazing and we received many kind words about the special touch you added!" — Little Wish Foundation
"Henry Leck has created something for which there is no competition." – Dr. Scott Dorsey, American Choral Directors Association.
There is a lot of excitement in the opportunities that they have to sing beautifully with hundreds of other like-minded kids on world class concert stages and in important civic events.
But, the Indianapolis Children's Choir is much more than just singing. Choral music is a vehicle that teaches and encourages our youth to make new friends, to appreciate and understand people who are different than them, to be responsible and professional, to participate as a member of a team, and to share their personal talents in ways that will make a difference in the world.
The staff, singers and families of the Indianapolis Children's Choir share a commitment to the highest quality of music making and true artisitic excellence. We have real fun in musical experiences that also reinforce our mission driven goals of fostering a sense of self-esteem, discipline, respect, accomplishment and pride.
Die autorin beschreibt anschaulich und
ghostwriting ng
nachvollziehbar anhand von praxisbeispielen, wie sich der zustand der potenzialentfaltung positiv auf leben und beruf auswirkt.