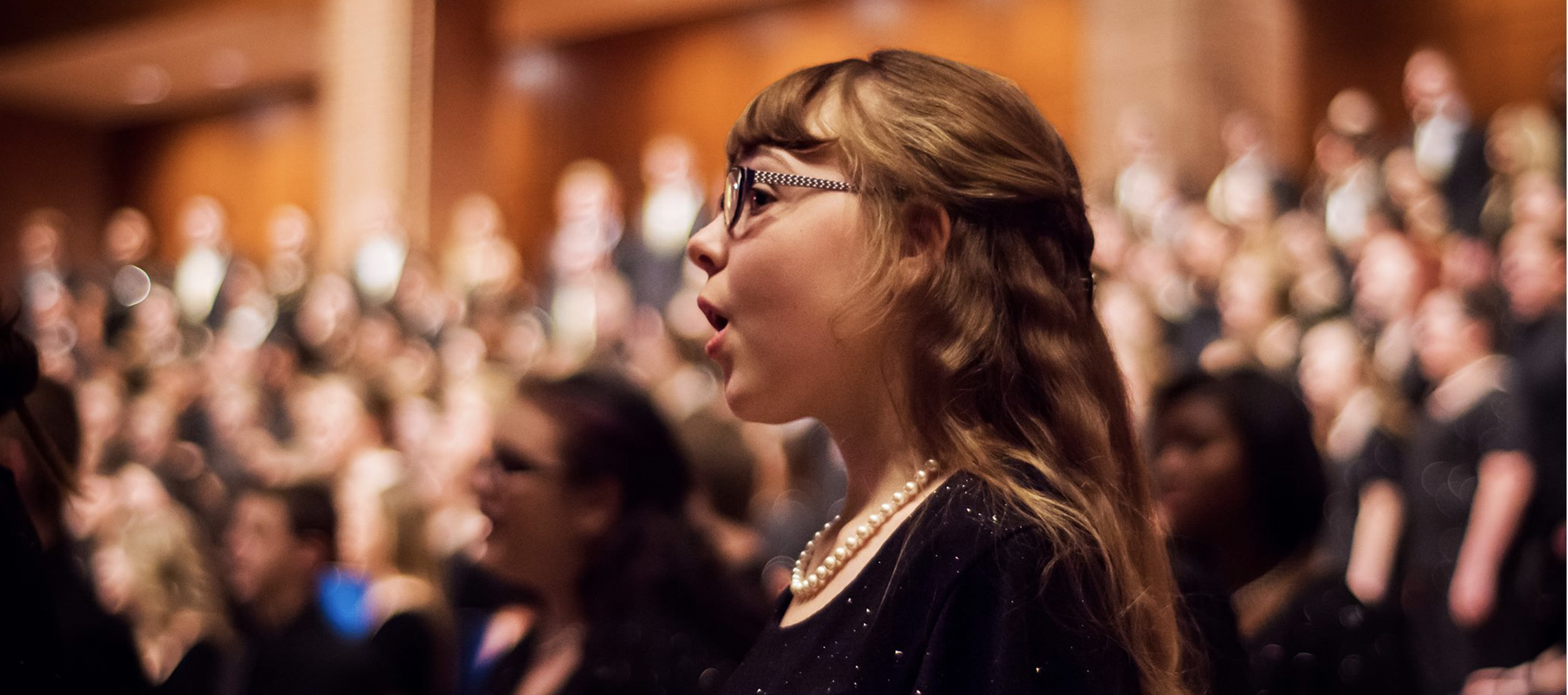 The Indianapolis Children's Choir nurtures and inspires student achievement through quality music education and the pursuit of artistic excellence in choral music performance.
Indianapolis Children's Choir envisions a future where excellence in choral singing is valued and supported for all children in the community – bridging cultures, ethnicities, and economic backgrounds.
Personal and Social Growth – Foster leadership, accomplishment, self-worth, teamwork, pride, and appreciation of music among singers, parents/guardians, and audience members.
Diversity, Accessibility, and Safety – Enrich the lives of children from all religious, racial, cultural, and economic backgrounds. Never compromise the safety and security of our singers.
Creativity and Excellence – Strive to lead locally, nationally, and internationally and pursue excellence in quality music education for singers and teachers.
Each year, the Indianapolis Children's Choir (ICC) serves approximately 2,500 young people between the ages of 18 months and 18 years who are enrolled in the ICC's choirs and music education programs. Founded in 1986 by Henry Leck, and under the leadership of Artistic Director Joshua Pedde, the ICC nurtures and inspires student achievement through quality music education and the pursuit of artistic excellence in choral music performance.
Housed on the campus of Butler University in Indianapolis, participants in the ICC's programs represent the diversity of central Indiana with children from nearly 20 counties, including all of the Indianapolis area suburbs and nearby rural communities. These children come from more than 359 schools and 56 school districts. Each week, the ICC holds 110 rehearsals and music classes.
Music At Play, our early childhood program offers children 18 months of age through kindergarten a beginning musical foundation. Classes are held on the campus of Butler University as well as in several locations around Indianapolis.
When singers are in kindergarten, they move to our Foundations Choir where they begin their choral journey as they learn how to be part of a performing choir.
The Preparatory Choir program is offered to singers in grades 1 through 3 and is a non-auditioned experience that further introduces children to the choral setting to allow singers to explore their interest in music and singing. This program meets at Butler and six additional locations around the city.
The Jubilate Choir for singers with special needs offers children not traditionally able to sing in a choral setting a unique opportunity to explore their musical talents.
Nine performing choirs rehearse at Butler and include singers from grades 4 through 12 in choirs ranging from intermediate to advanced treble and mixed ensembles.
In addition, the ICC offers regional affiliate choirs as part of its Community Connections program. These choirs meet in Boone, Hamilton, Hendricks, and Johnson counties.
The Columbus Indiana Children's Choir (CICC) is a cooperative effort of the Columbus Indiana Philharmonic and the ICC. The CICC offers musical experiences to students in preschool through grade 9 and serves Columbus and surrounding areas.
The Anderson Area Children's Choir (AACC) is a division of the ICC and offers musical experiences to students in kindergarten through grade 12 in Anderson and surrounding areas.
The ICC performs in various professional settings, helping set a standard of excellence in the children's choral music world. The choir has often performed by blind audition for national professional music associations including five national conferences of the American Choral Directors Association, National Association for Music Education, Organization of American Kodály Educators, and American Orff-Schulwerk Association.
Presenting its own Concert Season each year, the ICC performs at premier venues including Hilbert Circle Theatre, Christel DeHaan Performing Arts Center, and Clowes Memorial Hall. The Angels Sing holiday concert at the historic Second Presbyterian Church is broadcast each year by 13 WTHR. The ICC Alumni Association hosts former singers each year during the Sunday afternoon performance of the holiday concerts.
The ICC regularly appears with orchestras, professional artists, and ensembles of the highest caliber each year. In 2013, the choir was honored to sing for Nobel Peace Prize Laureate and Archbishop Emeritus Desmond Tutu during his public address at Butler University. The choir has also shared the stage with the Indianapolis Symphony Orchestra, Canadian Brass, The Chieftains, Moscow Chamber Orchestra, Indianapolis Chamber Orchestra, Carmel Symphony, Dance Kaleidoscope, Indianapolis Opera, Evansville Philharmonic Orchestra, Columbus Indiana Philharmonic, Judy Collins, Denyse Graves, Celine Dion, Sylvia McNair, Sandi Patty, Angela Brown, Marvin Hamlisch, and Barry Manilow. The choir performed the national anthem with Grammy-winner Kelly Clarkson at Super Bowl XLVI in Indianapolis for the largest US television audience in history. Recording extensively, the ICC has produced 15 CDs including those with the Canadian Brass and the Moscow Chamber Orchestra. Two videos, In Endless Song, and Lives in Tune: The Legacy of the Indianapolis Children's Choir commemorated major milestones. Currently, the ICC's music can be found via online music platforms such as Amazon Music, iTunes, Spotify, and many more.
The ICC plays a central role in the cultural life of central Indiana. ICC singers have sung for Indiana gubernatorial and mayoral inaugurations. Performances have included The Governor's Arts Awards, the Indiana Living Legends Award Gala, the Indiana Leadership Summit, the Tenth Pan Am Games, President George W. Bush's visit to Indiana, the Congressional Medal of Honor Memorial Dedication, Project 9/11 Indianapolis Memorial Dedication Ceremony, the Indianapolis Prize Gala, opening and closing ceremonies of the International Violin Competition of Indianapolis, and more. In 2003, the choir presented Indianapolis' first professional children's opera, The Trio of Minuet, at Clowes Memorial Hall.
The ICC has performed at many major sporting events throughout Indianapolis, including Super Bowl XLVI in 2012 and the 100th running of the Indianapolis 500 in 2016. At the 2004 FINA World Swimming Championships, the choir performed live national anthems for all gold medal award winners. Additional live nationally televised performances have included the NCAA Women's Final Four Championship Game, US Grand Prix/Formula One, the Solheim Cup International Tournament, the Indy 500 Festival Parade, and more.
Touring is a consistent part of the ICC's yearly plans. Both national and international tours have provided exceptional experiences for ICC singers and families. The ICC has performed on every continent except Antarctica. Current tour plans for 2023 include a tour to England and Scotland as well as New York and Philadelphia.