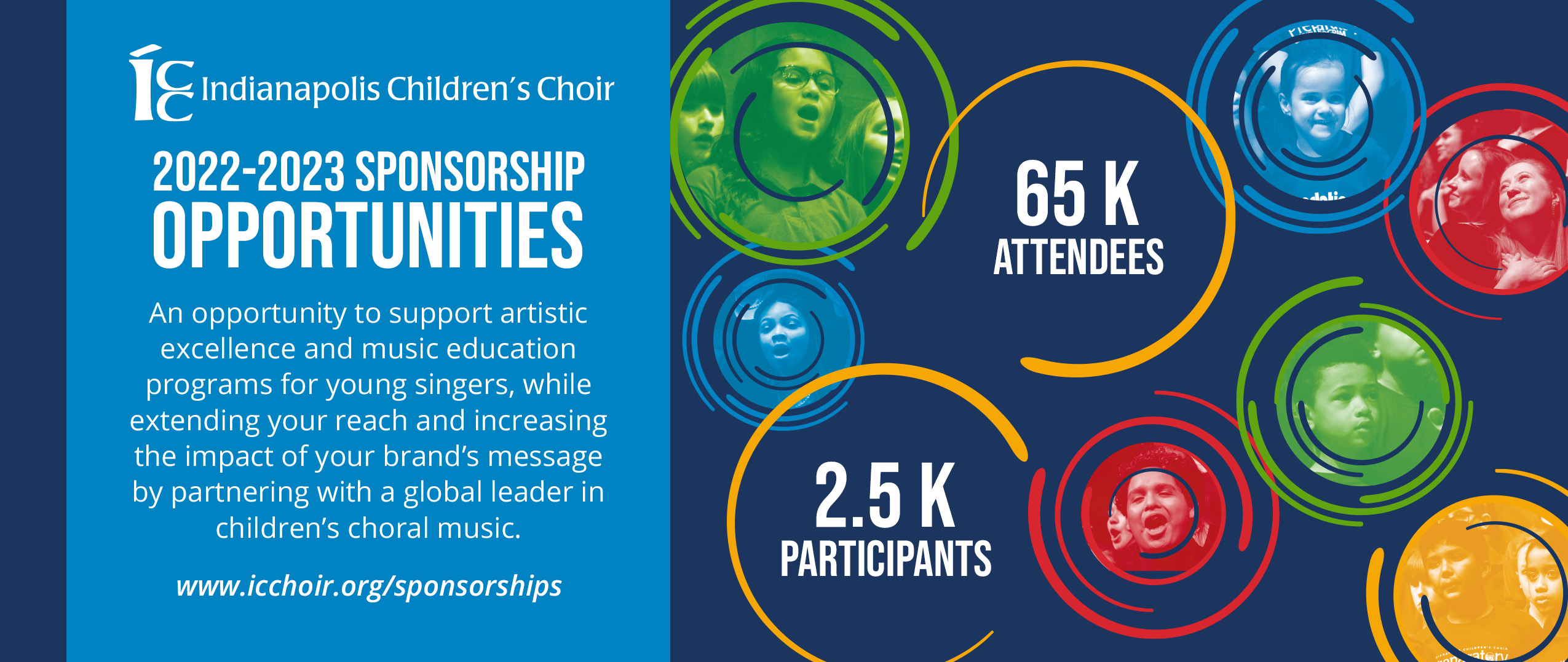 Become a sponsor of the ICC
The Indianapolis Children's Choir provides high-impact artistic and music education experiences for children and youth, offers hands-on teaching activities for college students and teachers, and makes a valuable cultural impact in our community. Understanding that music is much more than something simply to be enjoyed, the ICC nurtures and inspires overall student achievement and artistic excellence.
As a sponsor of the ICC, your company is associated with a premier global choral program. Your company is offered a targeted marketing opportunity to connect with the youth and family marketplace. As part of your sponsorship activation with the ICC, your company receives immediate customer contact opportunities in a positive, inclusive, and uplifting environment.
The arts have a tremendous economic impact on a community. Indiana's nonprofit art industry generates over $30 million in economic activity each year. The ICC's own economic impact in central Indiana is more than $3.5 million annually (Americans for the Arts). Therefore, your sponsorship with the ICC has a significant impact not only on the arts, but it supports the entire community.
Supporting the ICC through a sponsorship is a business opportunity, but your sponsorship also supports a cause that nurtures and inspires student achievement through quality music education and the pursuit of excellence in choral music performance. The ICC recognizes that music not only inspires but teaches teamwork, discipline, and a desire for achievement. We know the world is a better place; because children and youth who are artistically engaged and inspired can react more positively to the world around them. By its very nature, music provides a sense of celebration, because it is one of the few tools used to communicate universally and globally. Music binds our communities and our world in irreplaceable ways and provides experiences and opportunities to our children. Our community's commitment to arts education defines our future.
For more information about sponsorship opportunities, please contact Dave Riggs at 317-940-8067 or dhriggs@icchoir.org.