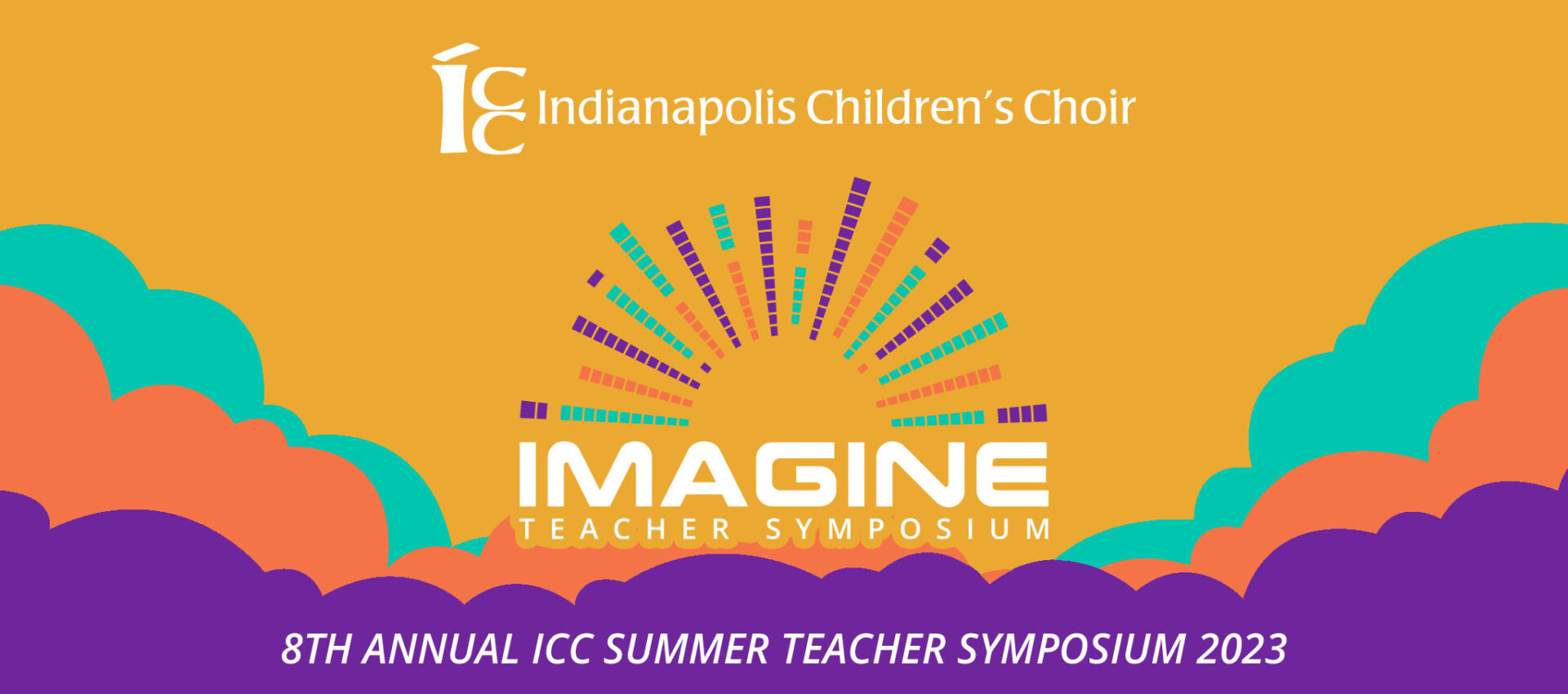 Teacher Symposium – In-Person and Virtual Options available
June 5-8, 2023
Butler University, Lilly Hall
9:00 am – 2:30 pm
Optional Extended Session is from 2:30 pm – 3:30 pm
(Virtual Session begins two weeks after in-person sessions. The virtual format will be available for one month.)
$40 Registration
Additional $15 for the extended session – Conducting Intensive with Joshua Pedde
An online platform will be available for virtual participants to submit questions and have discussions as they navigate through the recorded sessions.
A certificate of professional development hours completed will be provided.
Download the Symposium Flyer
We're always evolving to meet the needs of our community of colleagues. Each year, the ICC Teacher Symposium designs new sessions and hosts special guest speakers!  Every Symposium is different – join us this year for our 8th annual Symposium!
Now Available:  Comfort Level Tracks
Split sessions will provide a choice based on the level of experience and comfort level with the session topic. Ex: Vocal Pedagogy for experienced singers, as well as an introduction to vocal technique for those teachers less experienced in the choral world!
The Symposium welcomes all music teachers and directors – from all backgrounds – schools, churches, community choirs, and elementary through high school.
Symposium participants have the opportunity to observe the ICC's Imagine Summer Music Camp student sessions and are welcome to attend the Choral Fest: Imagine concert performance on June 9, 2023, at 11:45 am at Cornerstone Lutheran Church in Carmel. A complimentary ticket will be provided.
The 2023 Symposium will cover these topics and more:
ICC's New Curriculum and Published Resources
Maintaining Personal Motivation in Our Field
Social-Emotional Learning
Kodály Methodology
Beginning Teacher Concerns & Support
Movement in the Choral Classroom
Conducting Technique
Vocal Pedagogy
Conducting & Movement Connections
Technology
Advocacy
And more!
Symposium Guest Clinician - Dr. Hilary Apfelstadt
Dr. Hilary Apfelstadt is Professor Emerita of Choral Studies at the University of Toronto, where she held the Elmer Iseler Chair in Conducting. From 2013–2018, she was the artistic director of Exultate Chamber Singers, a semi-professional ensemble in Toronto. A native Canadian, she has led her university choirs in performances at conferences of the American Choral Directors Association (ACDA), and at Podium, the national professional conference of Choral Canada. She has guest-conducted numerous honors choruses and festivals throughout the U.S. and Canada, including more than 35 all-state high school choirs. She directed the 2014 National Youth Choir of Canada and has conducted choral festivals internationally. Her teaching experiences range from public school to community ensembles to church choirs. During her significant career, Hilary Apfelstadt has mentored many young conductors. She has advised almost 90 graduate conducting majors, many of whom hold significant teaching and church positions. A former national president of ACDA, she serves on the Editorial Board for the ACDA Choral Journal.
Dr. Apfelstadt will be joining the ICC Teacher Symposium on June 6 and June 7 as a special guest clinician. She will be offering sessions on conducting, choosing repertoire, using the text to tell a story, rehearsal plan, and much more!