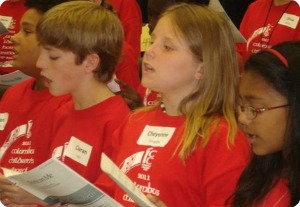 The Columbus Indiana Children's Choir (CICC) is an auditioned group of 160 children from grades 4 through 8 in Columbus, Indiana and surrounding communities.
The program has two choirs, the Concert Choir for more advanced singers and the Descant Choir for beginning members.
The program is a cooperative effort between the Columbus Indiana Philharmonic and the Indianapolis Children's Choir.
Ruth Dwyer, CICC Artistic Director; Camilla Gehring, CICC Assistant Director; and Deborah Eikenbary, educate@thecip.org, Columbus Indiana Children's Choir Coordinator.
The CICC also has programs for children in grades 1-3. Click here for more information about our Preparatory Program.
Use the form below for more information about the Columbus Indiana Children's Choir or to schedule an audition.