Non-auditioned - Grades 1 - 3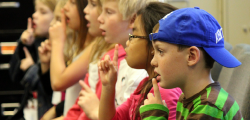 The ICC's Preparatory Program is a non-auditioned experience for first through third grade students; children are introduced to choral music in the rehearsal setting and take part in a choir where singing, learning, and fun take place. It is an outstanding way to explore their interest in music and singing and the potential for other opportunities in ICC.
Students meet one time per week. Each lesson has been created to cleverly and energetically combine the learning of musical skills, group singing, and play-like activities. The first part of rehearsal includes vocal warm-ups and exercises, and the second half of the rehearsal is devoted to active learning through musical games, folk dancing, or playing simple percussion instruments. The repertoire is specially selected for the age group. Students also learn about proper breathing, singer's posture, and developing basic music reading skills.
Tuition for the program is $225 for the second semester (starting January 2017), with a $60 non-refundable registration fee. The tuition cost covers all materials for your child for the year and you may pay in full or pay in monthly direct debits from a checking account. (The Columbus, Indiana Prep Program is priced differently, please click here more more information.)
Boone County
Thursdays, 6 – 7 pm
Whitestown Municipal Complex
6210 South 700 East
Whitestown, IN  46075
Director:  Andy Himelick
Butler University Campus
Mondays – Lilly Hall Room 133
Level 2 (for returning prep singers or 3rd graders)
6 – 7 pm
Director: Dr. Penny Dimmick
Wednesdays – Lilly Hall Room 133
Level 1 (for new prep singers in 1st or 2nd grade)
5 – 6 pm
Director: Lauren Southard
Carmel
Level 1 (for new Prep singers in 1st or 2nd grade) / Level 2 (returning Prep singers or 3rd graders)
Tuesdays, 4:45 – 5:45 pm
Cornerstone Lutheran Church Carmel
4850 E Main St
Carmel, IN 46033
(Enter through Door 1)
Director:  Josh Pedde and Lauren Southard
Columbus, Indiana
Mondays, 5:30 – 6:30 pm
Northside Middle School
1400 27th St.
Columbus, IN 47201
Director:  Nick Kohne
Pricing and schedule are different from other Preparatory Programs.
Fishers
Monday, 6 – 7 pm
Cornerstone Lutheran Church Fishers
13450 E 116th St
Fishers, IN 46037
Director:  Joanna Golando
Franklin
Tuesdays, 5:15 – 6:15 pm
Franklin College
Johnson Center for the Fine Arts Rm. 102
Corner of Branigin Blvd. and Grizzly Dr.
Franklin, IN 46131
Director:  Melissa Garcia
Hendricks County
Tuesdays, 5 – 6 pm
Kingsway Christian Church
7891  E County Road 100 N
Avon, IN 46123
Director:  Leeann Starkey
Johnson County
Mondays, 5 – 6 pm
Center Grove Church
2340 S State Road 135
Greenwood, IN  46143
Director:  Melissa Garcia