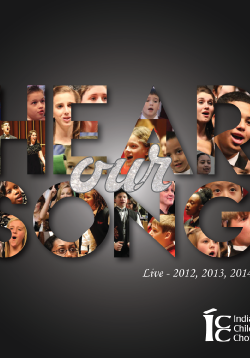 The Indianapolis Children's Choir Announces New CD
Hear Our Song, Live – 2012, 2013, 2014
The ICC is excited to announce a new CD of live music from Hear Our Song concerts from 2012,2013, and 2014. We are currently taking pre-orders. If you order your CD by December 15, it will ship by December 19 or will be available at the will-call table at the Angels Sing, Celebrate the Season and Sounds of the Season Concerts on December 19 & 20. Please choose your delivery preference when ordering (shipping and handling fees apply).
Listen to samples from the CD, below:
Full list of tracks:
Beich Aonach Amarach, Irish Folk Song; arr Ruth Dwyer and Beverly Hardiman Jones
The Wave; Mary McAuliffe
Think On Me; arr. James Quitman Mulholland
Jazz-Man from "Friday Afternoons"; Benjamin Britten, words by Eleanor Farjeon
Gloria, from Missa Brevis; Jonathan Dove
She Walks in Beauty; Kevin A Memley, poem by Lord Byron
J'entends le Moulin; arr. Donald Patrquin
Pilgrims' Hymn from the opera The Three Hermits; Stephen Paulus, words by Michael Dennis Browne
Stand Together; Jim Papoulis
Laudamus Te from Mass in C; Worlfgange Amadeus Mozart, arr. Melissa Malvar Keylock and Jill Friedersdorf
Serentiy (O Magnum Mysterium); Ola Gjeilo
My Favorite Things; Oscar HammersteinII, Richard Rodgers, arr Joy Ondra Hirokawa
Ergen Deda; Peter Lyondez
Kol Han'shamah (Psalm 150:6); Robert Applebaum
Medley from Oklahoma!; Oscar Hammerstein II, Richard Rodgers, arr John Leavitt
Mohlang ke kgotlelang hae (When I Return Home); arr Rudolf de Beer
Blue Skies; Irving Berlin, arr Roger Emerson
I Am His Child; Moses Hogan
Hero; Mariah Carey and Walter Afanansieff, arr Martin Ellis
 This CD is dedicated to the loving memory of friend and colleague Cheryl Eisele West.