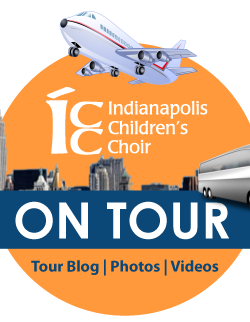 Bella Voce Travels to Chicago
by Amy Hughley, Director of Bella Voce
On Friday afternoon, April 24, Bella Voce departed Butler for Chicago on their first ever tour. Although our trip lasted not much more than 48 hours, we managed to pack our time with fun-filled, unforgettable events. As a recent transplant to the Midwest myself, I thoroughly enjoyed my first time to Chicago with these incredible young women.
We spent Saturday morning at the Museum of Science and Industry, where some clever Bellas planted secret BV messages in the museum's Enigma machine. Then we were off to Water Tower Place for shopping (my first exposure to the American Girl store…) before spending the evening at the Chicago Lyric watching a simply incredible production of Carousel.
My proudest portion of the trip was Sunday morning, when the girls performed at Grace Episcopal Church in Oak Park as part of their morning liturgy. Not only did they perform their three prepared pieces beautifully, they also brilliantly sight read all service music and hymns, vested in choir robes with the help of selfless chaperones, processed twice while singing hymns, and all whilst maintaining an outgoing, positive attitude. I am so lucky to be their director!
The only fearful part of the trip for me was venturing to the top of the Willis Tour and standing on the sky deck. I am fortunate I had a crew of encouragers helping me overcome my fear of heights!
This has truly been an amazing year for me in ICC. I feel as if I am part of a new family that has welcomed me with open arms, and I am happier for it.