Joshua Pedde
Artistic Director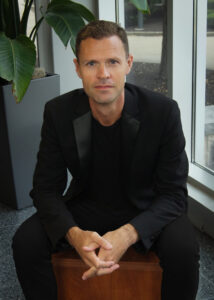 Joshua Pedde is the artistic director of the Indianapolis Children's Choir (ICC), one of the largest and most respected children's choir programs in the world. In addition to conducting ICC's advanced treble choirs, Josh is also the artistic director of the Anderson Area Children's Choir. During his 23 years with the ICC, Mr. Pedde has been instrumental in growing the ICC's Innovations program which provides free music education workshops to public and private schools throughout central Indiana. In addition, he has pioneered ICC's Neighborhood Choir Academy within Central Indiana which provides an introductory musical experience for students to explore the world of choral music and culminates in a performance with the ICC, the creation of ICC Connects, which allows singers from around the world to work and sing with the ICC choral program in central Indiana, and the creation of The Indianapolis Children's Choir Publishing House in partnership with Beckenhorst Press. The ICC's new publishing arm publishes choral music for all ages, levels, and voicings of children's/youth choirs, as well as educational materials for use with these ages. Josh published his first book on leadership, Showing Up, in September 2023.  At the beginning of the 2023-24 Season, Josh moved the ICC headquarters into the newly renovated ICC Performing Arts Center at 9111 Allisonville Road in Indianapolis, featuring 3 state-of-the-art rehearsal spaces, staff offices, conference center, and more.
Mr. Pedde is a frequent conductor and clinician throughout the United States including the LCMS Worship Institute Children's Choir, the WELS National Convention Festival and Children's Choirs, Indiana Circle the State with Song festivals, the American Hymn Society, the National Conference of Pastoral Musicians, the National Disciples of Christ Conference, and American Choral Directors Association all state choirs in Indiana, Kentucky, Georgia, Minnesota, Mississippi, New Mexico, and Wisconsin. Mr. Pedde frequently is a consultant to churches on Liturgical Worship and Children's Choir. He is also founder and artistic director of the Coastal Song Choir Festival.
In addition to conducting at Carnegie Hall, Kennedy Center and Lincoln Center, Mr. Pedde was the backstage conductor for the premiere of the children's opera, The Trio of Minuet. He recently prepared ICC's most advanced treble choir for a performance at Shift: A Festival of American Orchestras at the Kennedy Center. He has conducted at numerous sporting events including the FINA World Swimming Championships, Indianapolis Fever, NCAA Women's Basketball Finals, the RCA Tennis Championships, the 2008 U.S.A. Olympic Diving Qualifications, the 2012 World Choir Games, and Super Bowl XLVI. He has conducted choirs in performances at the Vatican, Canterbury Cathedral, and the National Concert Hall in Dublin, as well as various performance venues in Austria, Canada, England, Germany, Italy, Ireland, Netherlands, Scotland and Spain. In September 2018, Mr. Pedde's treble choir was a featured performer at the 50th National American Orff-Schulwerk Conference in Cincinnati, Ohio. He was honored to be asked to prepare and conduct the choir for the state funeral for Senator Lugar in 2019.
Mr. Pedde is a member of the NAfME, ACDA, IMEA, and ICDA. He also served as a solo and ensemble and organizational judge for ISSMA and as a clinician for IMEA's ensembles. Mr. Pedde serves as chair for the Consortium of Indiana Children's Choirs.
Mr. Pedde serves at Cornerstone Lutheran Church as director of traditional worship for their four sites in Carmel, Fishers, and Indianapolis. He is the music director of the Carmel Community Choir and Orchestra. He is a member of the Association of Lutheran Church Musicians, and the AGO. He has received training and certification in Orff-Schulwerk, Kodály, and First Steps methods of teaching. Mr. Pedde was an elementary music teacher in the Zionsville Public School system for five years before joining the ICC as a full-time conductor, and from 2001-2005 Mr. Pedde was the Founder and Artistic Director of the Kokomo Youth Chorale.
Mr. Pedde earned his Bachelor of Music degree in vocal music education and a master's degree in choral conducting from Butler University, where he was recognized for his outstanding work in elementary music and a DPM from Concordia Chicago. Josh delights in time spent with his wife, Laura, and children, Annabelle, Grayson, and Savannah.