Mikaela Cash ICC Alumna, 2013-2019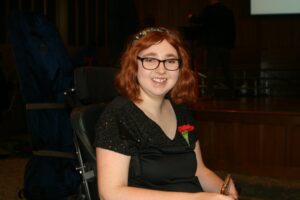 My favorite choir memory is definitely when I went on tour to Italy in 2015. We went to many different areas of Italy during the tour, but one of my favorite places was Rome. I'm a practicing Catholic, so being able to sing in a place that was so central to my faith was incredibly special and something I will never forget.
Mikaela's favorite song is: Mary, Did You Know and her most memorable performance was the ICC's 30th Anniversary concert.
My favorite things about being a part of the ICC was how inclusive it was and how much it helped me with my social skills despite being such a shy kid. 
A few words of wisdom from an alumna: Songs aren't just words on a piece of paper. Songs tell a story and they have emotion. Tap into those emotions when you sing and that's when your voice will truly soar.