Director
Lauren Southard
Accompanist
Vonda Bowen
Anderson Area Children's Choir Administrative Staff
Lisa Wihebrink
Conductor Emeritus
Susan Finger
Rehearsal Location:
Anderson First United Methodist
1215 Jackson St.
Anderson, IN 46016
View Map
Regular Rehearsals:
Tuesdays, 6:15 – 7:15 pm
AACC Parent & Family Connections
Facebook Group
Forms & Documents
– Financial Assistance Request
– 2022-2023 Singer Handbook
– Uniform details: AACC polo (provided by the AACC), nice full-length khakis without holes or embellishments, and nice, clean sneakers. Any long hair should be pulled back out of the singer's face so they can be seen on stage.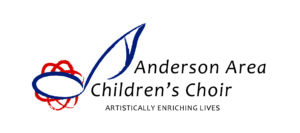 Login to your Google Classroom for assignments, recordings, wordsheets, and other important announcements!
You will receive access to your Google Classroom at the start of the 2022-2023 Season. If you have lost access to your login information, contact Paul Schafer in the ICC Office at pfschafe@icchoir.org