Non-auditioned - Grades 1 - 3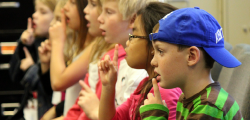 CICC Prep Choir
Prep Choir is a non-auditioned choir.
They will meet once a week Nov 3rd through mid-March with a winter break after the performance in December. There will be 6 classes, a dress rehearsal and a performance each semester.
Mondays, 5:30 – 6:30 pm
Grades 1,2,3
First Semester: October 17th – Dec 11th
Second Semester: January 9th – March 2nd
Northside Middle School, Columbus
Director: Nick Kohne
PERFORMANCES:
First Semester:
Tuesday Nov. 1st –  Prep Choir attend Descant Choir 6:00-7:15
CIP Dress Rehearsal Dec 9th
CIP 3:00 Performance Dec. 11th
No rehearsal October 31st 
Second Semester:
Performance at local nursing home with Descant TBA
COST: $150.00 for the year (need based financial aid available)
UNIFORM: $10.00 CICC logo shirt (purchased from CICC) and plain black dress pants, black socks and black shoes purchased at your own convenience. NO black jeans please.
REGISTRATION and commitment is for both semesters. Register on-line at www.icchoir.org
CURRICULUM
Making music and learning about music should be FUN! The CICC Preparatory Choir will focus on singing, movement and musical games that will enrich, teach and enhance basic music concepts and music reading skills. All classes will use both choral and general music concepts, games and activities based on the Kodaly Music Education Method.
For more information, contact Ruth Dwyer, Artistic  Director of the Columbus Indiana Children's Choir at 317-940-8066.